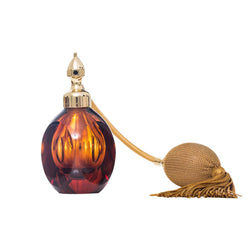 Marcel Franck
GOLD PLATED FIZZ MOUNT, CUBIC AMBER CRYSTAL GLASS
Gold plated Fizz mount.
The perfume bottle is made of  amber crystal glass . 
We wanted to offer a line of atomizers with a more contemporary design.
To achieve this we started from our oval mould and thanks to the talent of one of our craftsmen asked him to realize four perfectly flat and polished faces.
The flacon thus has a cubic shape. The angles are rounded and moireed.
The flat faces are ideal for customisation like initials, name or monogram (contact us for more details and prices).
All bottles are signed and numbered
Supplied with a funnel and a certificate.
Also available with an Escale gold mount (contact us).
Content 40/50 ml.