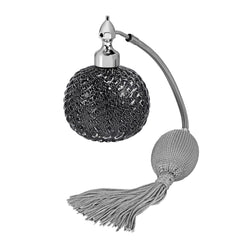 Marcel Franck
PALLADIUM PLATED FIZZ BALL MOUNT, BLACK MURANO GLASS, INSERTED SILVER LEAF
Palladium plated Fizz ball mount.
Black Murano glass.
Murano glass is an extremely complex process. The techniques used to produce Marcel Franck glass bottles have been developed over centuries.
The glass-master rolls the flaming glass on the end of the blowpipe over thin leaves of silver. As the glass is blown, the leaves reduce to fine pieces into silver dust giving this beautifull effect.
The balotton pattern, a diamond decoration in relief,  is obtained by blowing the glass in an appropriate mould. The shape is then obtained freehand.
Supplied with a funnel.