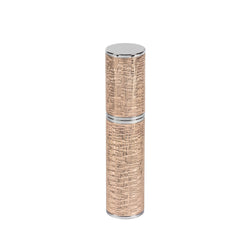 Marcel Franck
GUILLOCHE PURSE ATOMIZER, ROSE GOLD PLATED, LINEN CANVAS DESIGN
Guilloché purse atomizer, rose gold plated cap and barrel, linen canvas design.
Guilloché is a centuries-old craft that, today, involves the use of antique machines to engrave very precise, delicate, intricate and repetitive patterns. The fruits of this craft, very nearly a lost art and which Marcel Franck allows you to benefit from, can be found adorning all manner of some luxury watches. 
Palladium plated stoppers and rings.
Supplied with pouch and funnel.